Friends, these are the budget TWS earbuds from OPPO, the OPPO Enco Buds. ( best earbuds under 2000 )
They're priced at Rs 1799(1.8K). Basically, they're priced at Rs 2000 but with introductory offers, they come under Rs 1800.
These are the cheapest TWS earphones from OPPO & OPPO Enco or any other previously launched TWS earphones, according to me have been valuing for money Including their flagship OPPO X.
So, we'll listen to its audio & we'll tell you everything after unboxing them!
Unboxing
There are buds in the case and there are 2 pairs of extra eartips, that's good, then you have documentation and there's nothing else, that's about it.
Design
This pill case looks good! It's shiny, and it has a flat base, so it won't move once you keep it on a surface and that's nice, it's got good build quality, it's plastic but it looks good.
It looks slightly on the premium side, so I like it.
By the way, these are the White ones & there's this only color available so the buds have a plastic build, but it's good. They feel good in the hand & are light as well.
So even if you put them on throughout the day, you shouldn't have much problem.
Even if you try running fast nothing's going to happen. (buds will not fell) The fit's good but if you sweat a little then you might have to push them inside.
It usually happens with TWS, especially the in-ear ones, they tend to come out after some time if there's sweat/water.
Sensors And Mics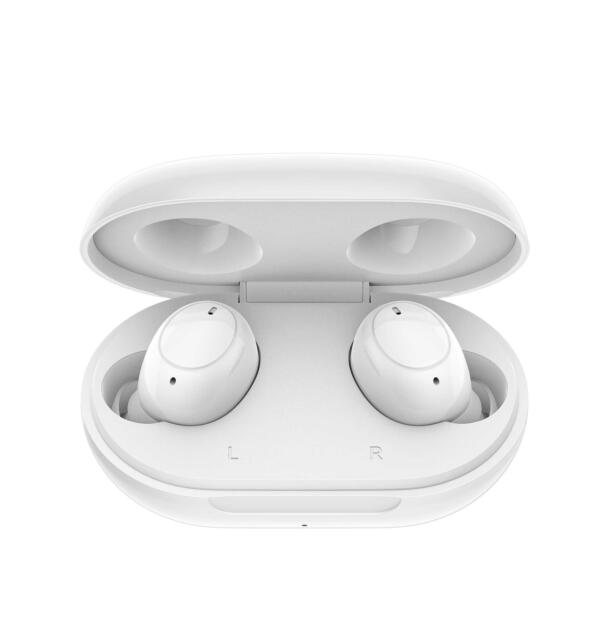 You get a small microphone on both earbuds and there are 2 charging points inside.
There's no wear detection, but there's a small beep when I put them on and if we talk about the case, there's an LED indicator for charging/pairing.
There's left/right written clearly on the case. And a USB Type C port on the back for charging.
Pairing
The pairing button is not on the case, you'll have to long-press it on the buds. Let's pair it!
Alright, there's a quick pair mode so that's good and It'll be easier if you have an OPPO phone, you wouldn't have to download the app separately.
Features
With the app you can assign functions like a single tap (play/pause), double-tap (next) & triple-tap has a game mode feature.
Which has a low latency of about 80ms and then touch & hold functions the volume as well, so buds can help you increase/decrease the volume, that's nice!
If you hold the left bud's touch panel then it lowers the volume & if you hold the right side, it increases the volume
And these buds are future-proof as well, they'll update as soon as they receive their firmware updates on the app.
Audio review
Their touch response is really good! Once you triple tap, the game mode turns off so the touch controls are good!
It's got a balanced sound That's the only thing I'd say, I can't say it has good bass/good mids/good highs and all the notes are balanced & not at all overpowering.
Even the vocals & background music can be clearly heard so overall, you won't have a thumping bass, but you'll have a balanced bass for sure and I think these are perfect for all types of music!
Remember, these are budget earbuds (Rs 1.8-2K) & I'm saying according to that and I really liked the sound of these Enco Buds, They're seriously good.
To talk about their loudness, they're satisfactorily loud, it ain't too much that you get in some other buds but even if there's too much noise outdoors, you won't have any problems.
So as I mentioned, the audio has a balanced sound and if we talk about the drivers, they're 8mm drivers so that's expected.
Battery
If you fully charge the Enco Buds (100%), you'll get a 6-hour backup and the case backup is of 24 hours.
So there's 1 good thing, you get Bluetooth 5.2 for connectivity, it's the latest generation and there's low latency (80ms) as I already mentioned, that's good.
And you also get IP54 certification, so it's kind of dust & water-resistant so using them in the rain won't be much of a problem.
But there's no problem even if you don't have an OPPO phone, you can install an app, Hey Melody, you'll get all the functions in it.
And another thing, if you're using outdoors with too much noise during a call, you'll be able to talk properly, because there's an intelligent noise-canceling feature basically when it detects noise through the microphone,
It'll cancel the noise & you'll be able to speak & hear properly.
OPPO tested the quality of the case by around 20000 times and they've also done drop tests as well.
Overall, it's definitely another good offering from OPPO, especially under earbuds Rs 2000 and It's definitely in the top 5 TWS earbuds under Rs 2000!